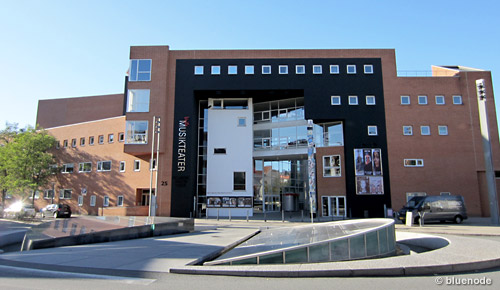 Vejle

Musiktheater

Vejle Musikteater

Vejle, Denmark

Scope of works: Concept and Design of the fully automated Flying Machinery System;

Client: Hundsbæk & Henriksen a/s


Vejle Musikteater was built in 1992/3. Conceived as a receiving theatre, the Musikteater stages performances from national and international theatre groups. The auditorium holds 1134 seats.

As part of the renovation work, the manual Counterweight System was replaced with 47 Flying Bar Winches controlled by an fully automated
Control System.

A new Machinery Room was erected on top of the roof of Fly Tower due to the lack of clear space caused by the insufficient height and the asymmetric
shape of Fly Tower. The Flying Bar Winches, the cabinets of the Control System and the Power Distribution Cabinet were placed in the new Machinery Room.

A flexible Chain Hoist System was installed to supplement the Flying Bar Winches. The Main Curtain System was renewed.
BLUE
NODE GmbH · T +49 / (0)30 / 257 60 60 - 80
Theatre
Consultants
& Engineers