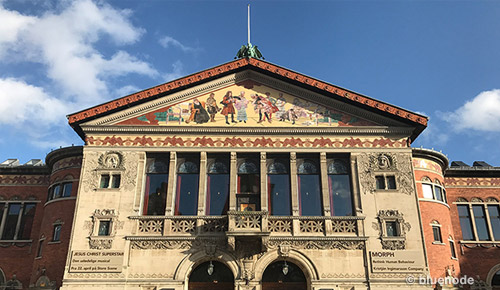 Aarhus

Teater

Aarhus Teater

Aarhus, Denmark

Type:

Renovation

Scope of works:

Concept and design of fully automated Overstage and

Understage Machinery Systems; Production Lighting System; Audio/Video Systems; Communication Systems; Stage Flooring;


Client:

Aarhus Teater, Aarhus, Denmark

Aarhus Teater is the largest provincial theatre in Denmark. It opened in 1900 and is a masterpiece of Art Nouveau architecture. The stunning auditorium of the main stage has 700 seats supplemented by the Scala Stage with 285 seats and the Studio Stage with 100 seats.


Its performances are highly acclaimed and the theatre is considered as one of the most important theatres in Northern Europe.

Due to several restructuring measures over the course of more than 100 years, Aarhus Teater was not only legging behind on its technical infrastructure but was desperately in need of restructuring. After many adaptions it was important to regain a clear layout for the Fly Tower, to increase productivity and transform it into a safe working space.

This made it necessary to create a new layout of the Fly Grid, as well as more gallery levels with new access routes to connect these levels. The orchestra pit was also fully redesigned and the fixed stage edge was dismantled. The new layout offered more space for musicians and helped the flexibility largely by allowing the orchestra platforms to be placed at auditorium floor level to increase the capacity of the auditorium. Due to this measure it was even possible to change the shape of the stage edge to its original curved layout which suits the shape of the seating rows much better than the recent straight shape.

The stage technology systems were fully updated. The existing hydraulic systems, which caused a lot of trouble and high maintenance cost, were replaced by electrical drives. Production Lighting, Audio/Video and Communication systems were updated to current standards.
BLUE
NODE GmbH · T +49 / (0)30 / 257 60 60 - 80
Theatre
Consultants
& Engineers