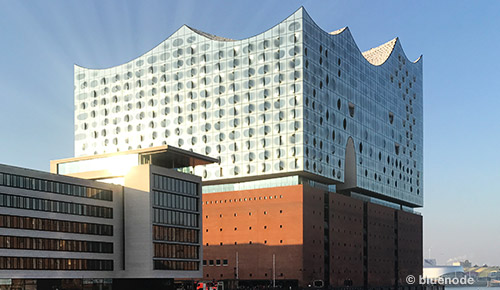 Elbphilharmonie

Hamburg

Elbphilharmonie Hamburg

Hamburg, Germany

Type:

New Construction

Scope of works:

Project Management / Accounting Control/ Technical Controlling Cosntruction Supervision during design, construction, commissioning and acceptance of the fully automated Flying and Understage Machinery Systems; Production Lighting System; Audio/Video Systems; Communication Systems; Stage Flooring;


Client:

HochTief Solutions AG, Hamburg, Germany; in cooperation with baa projektmanagement GmbH, Oberhausen, Germany


Hamburg's new and impressive landmark is located on the waterfront of the river Elbe. The building houses one of the best concert halls in the world. The Elbphilharmonie is erected on top of an old brick wall storehouse in Hamburg's harbor area. The building houses three concert halls, a five-star hotel including a convention centre, classy residences and a public plaza with 4000 sqm at the height of 37 m.

The large concert hall with a capacity of 2150 seats is located in the heart of the building, starting at the 12th floor and extending to the 30th floor. It is the only large scale concert hall in the world to be located at such high elevation. The venue is fully floating within the building. It is decoupled from the rest of the building by 342 large scale spring units

The small concert hall holds 550 seats and hall 3 holds 170 seats. The roof is rising to 110 m.

The entire building is rich in superlatives. And its performance related systems are too numerous and complex to be listed. Here is just one number to illustrate the dimension of this project: There are 5384 connection points for audio/video within the building.

And this complex audio/video system is connected directly to the audio/video system of German National Broadcast Corporation for live broadcast.


The stage is made of 31 curved and fully automated stage lifts.
All systems had to be integrated into a room with a fully organic shape that lacks a single straight wall.

The spectacular design of the Elbphilharmonie was done by Herzog & de Meuron Architects. Concert hall acoustics are under the responsibility of Yasuhisa Toyota from Nagata Acoustics in Tokyo, Japan. General Contractor was HochTief Solutions AG, Germany.
BLUE
NODE GmbH · T +49 / (0)30 / 257 60 60 - 80
Theatre
Consultants
& Engineers