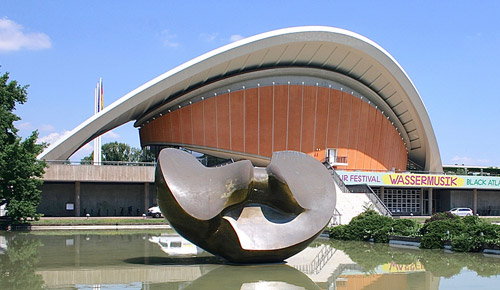 Haus

der Kulturen der Welt

Haus der Kulturen der Welt
Berlin, Germany

Type:

Renovation

Scope of works:

Concept and Design of fully automated Overstage and Understage Machinery Systems; Production Lighting System; Audio/Video Systems;


Client:

pin planende ingenieure gmbh, Berlin, Germany


Haus der Kulturen der Welt plays an important role in the eventful history of Berlin. It was the contribution of the United States of America to the Interbau which was a forum to explore new ideas for urban planning and development to redevelop the vast destroyed areas of post-war Berlin.


With its unique architectural design it is one of Berlin's most beloved landmark buildings.

It opened in 1957 as 'Hall of Congress' and was used mainly for this purpose until 1980 when parts of the roof collapsed due to material fatigue.

It was rebuilt from 1984 to 1987 and renamed as Haus der Kulturen der Welt which means 'House ofthe world's cultures'.


Since then it is used for performing arts, exhibitions and congress.

We designed new Stage Machinery Systems, as well as Production Lighting and Audio/Video Systems to provide the required flexibility for this versatile programming.
BLUE
NODE GmbH · T +49 / (0)30 / 257 60 60 - 80
Theatre
Consultants
& Engineers