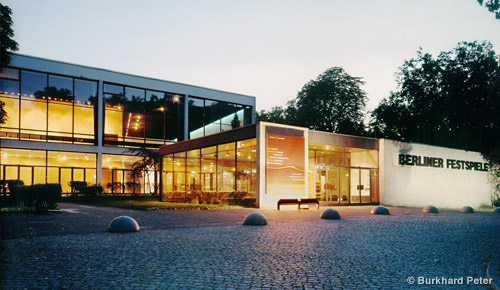 Haus der
Berliner

Festspiele

Haus der Berliner Festspiele

Berlin, Germany


Scope of works: Concept and design of fully automated Overstage and Understage Machinery Systems; Production Lighting, Audio, Video and Communication Systems; Stage Flooring; Mobile Cinema Equipment;
Partner: AMT Ingenieursgesellschaft mbH & Theateradvies bv
Client: Kulturveranstaltungen des Bundes in Berlin GmbH (Federal Cultural Department of Germany)


Haus der Berliner Festspiele hosts several theatre festivals, such as MaerzMusik, Theatertreffen, musikfest berlin, internationales literaturfestival berlin, spielzeit'europa and JazzFest Berlin. Every year, the best German-speaking productions fro Germany, Austria and Switzerland are invited to perform in the theatre during Theatertreffen festival.


The theatre opened in 1963 as a repertory theatre under the name 'Theater der Freien Volksbühne'. The first director was legendary Erwin Piscator. Built by renowned architect Fritz Bornemann, it is classified as one of the best German theatre buildings of the postwar period.


The theatre was fully renovated during 2010 and 2011. All stage technology systems have been renewed and the theatre is now rated as one of the best receiving theatres in Germany.

The Flying Machinery of the Main Stage incorporates 81 motorised Fly Bar Winches including Side Fly Bars. The Proscenium Bridge was designed as a mobile unit and can be suspended from any 6 Flying Bars or unhooked and divided into 3 parts for storage.

Flexible Proscenium Towers are also suspended from the Flying Bars and can be adjusted to the position of the Proscenium Bridge. Mobile Point Hoist Winches complete the fly machinery.


All Lighting Galleries in the Fly Tower as well as the Fly Grid have been redone completely. In addition, the steel beams of the roof were reinforced for higher loads.

The entire Forestage area has been restructured and the fixed stage edge was removed.

The Side Stage was re-developed and can now be used as indepenent Studio Theater.
BLUE
NODE GmbH · T +49 / (0)30 / 257 60 60 - 80
Theatre
Consultants
& Engineers