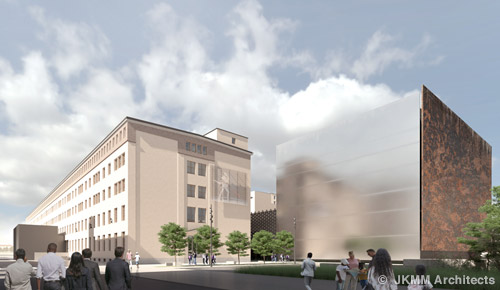 Tanssin

Talo

Tanssin Talo
Helsinki, Finland

Type:

New Construction


Scope of works:

Consulting for the layout of the new large venue;
Concept and Design of fully automated Overstage and Understage Machinery Systems; Production Lighting System; Audio/Video Systems;


Client:

Tanssin Talo, Helsinki, Finland


Tanssin Talo will be the new venue for dance in Helsinki. Even though the main focus is on dance performances, the venue is designed as multi-purpose venue. To achieve the required flexibility, a new concept has been developed that combines the flexibility of black box theatres with possibilities of traditional proscenium theatres. The new building will be attached to the former cable factory that is occupied by all sorts of companies of the cultural sector.


The existing Pannuhalli, a beautiful venue in the old cable factory that let's you breathe the industrial charm of its past, will be transformed into a modern venue.


A new foyer area will link the old and new buildings and will form the new central entrance for the cable factory.


New wardrobes, storage areas and a new loading dock will provide the facilities needed for a modern performance venue.
BLUE
NODE GmbH · T +49 / (0)30 / 257 60 60 - 80
Theatre
Consultants
& Engineers