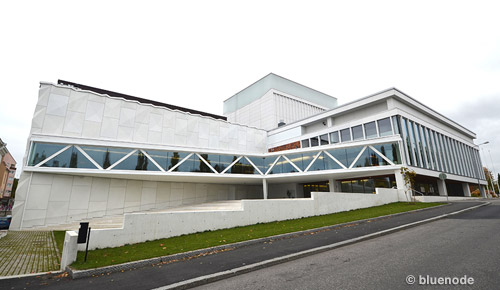 Kuopio Kaupunginteatteri
Kuopio Kaupunginteatteri
Kuopio, Finland
Scope of works: Concept and Design of the fully automated Overstage and Understage Machinery System; Production Lighting, Audio, Video and Communication Systems; Stage Flooring.
Concept and Design of a new Black Box Theatre as extension to the existing building including the Fly Grid and Working Galleries; fully flexible Chain Hoist System; Production Lighting and Audio Systems; Stage Flooring;
Client: Kuopion Kaupunki (City of Kuopio)

Kuopio City Theatre is among the most important cultural facilities of the Kuopio region in Finland. The theatre was built in 1963 and had been in full operation until renovation started in 2012.
The building was fully refubished. As part of this measure the Fly Tower of the Main Stage has been increased by 3.4 m. The Forestage has been shortened and the fixed stage edge was replaced by 3 Orchestra Elevators to increase the Auditorium capacity. The floor of the
Auditorium was lifted to get better sightlines. The diameter of the existing Revolving Stage was reduced and 6 motorized stage platforms were integrated into the Revolving Stage.
All Lighting Galleries in the Fly Tower as well as the Fly Grid will be redone completely. The wire ropes of the 56 Fly Bars and the 4 suspended Lighting Bridges run under the Fly Grid to allow unlimited access of the Fly Loft.
A new Loading Area was set in between both stages.
In addition to the refurbishment of the existing stage a new Side Stage had been attached to the existing building, which can be simultaneously operated as a fully equipped Studio Theatre. The Studio Theater is designed as a black box theatre with a footprint of 12 x 24 m and a height of 10 m. A full walkable grid level was installed at overhead. The Studio Theatre has been equipped with a fully flexible Chain Hoist System that allows setting a suspension point everywhere in the room as well as a horizontally moving Lighting Bridge and a modular
Grandstand.
BLUE
NODE GmbH · T +49 / (0)30 / 257 60 60 - 80
Theatre
Consultants
& Engineers